Mambrillas de Lara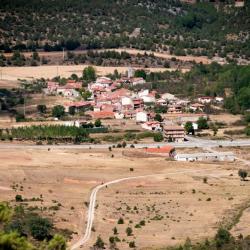 Mambrillas appears officially written in 1587. This name comes from Mambligas, a diminutive of Mamblas (clearly related to the nearby homonymous peaks), from the Latin "mamulas", which means woman's breasts.
Mambrillas, linked to the Alfoz de Lara, the most important and largest of all Burgos alfoces or areas from 929 d. C., close to the monastery of San Pedro de Arlanza, enjoys its greatest splendour at the end of the Middle Age. In 1186 several nobles donate some properties of this village to the mentioned monastery.
It seems that this village was always linked to the "civitas" of Lara, although it does not appear in the Becerro de las Behetrías. In 1459 its neighbours participate in a process that will give rise to the bylaws enactment of Lara and its area. In 1587 it appears written as Mambligas. This zone is well-known due to the oldest epic tradition in the Spanish medieval literature, like the Poema de Fernán González and above all the Leyenda de los Siete Infantes de Lara. Still today you can appreciate its houses, built following the popular sierra architecture, its four ovens, the mill and, of course, the parish church devoted to the village patron, San Juan Bautista, built in the 15th century.